References
ACCENTRO Real Estate in Berlin, Germany
Appreciation as a tangible experience – the newly designed headquarters of Germany's leading residential property investor is a space where people meet, work and feel comfortable.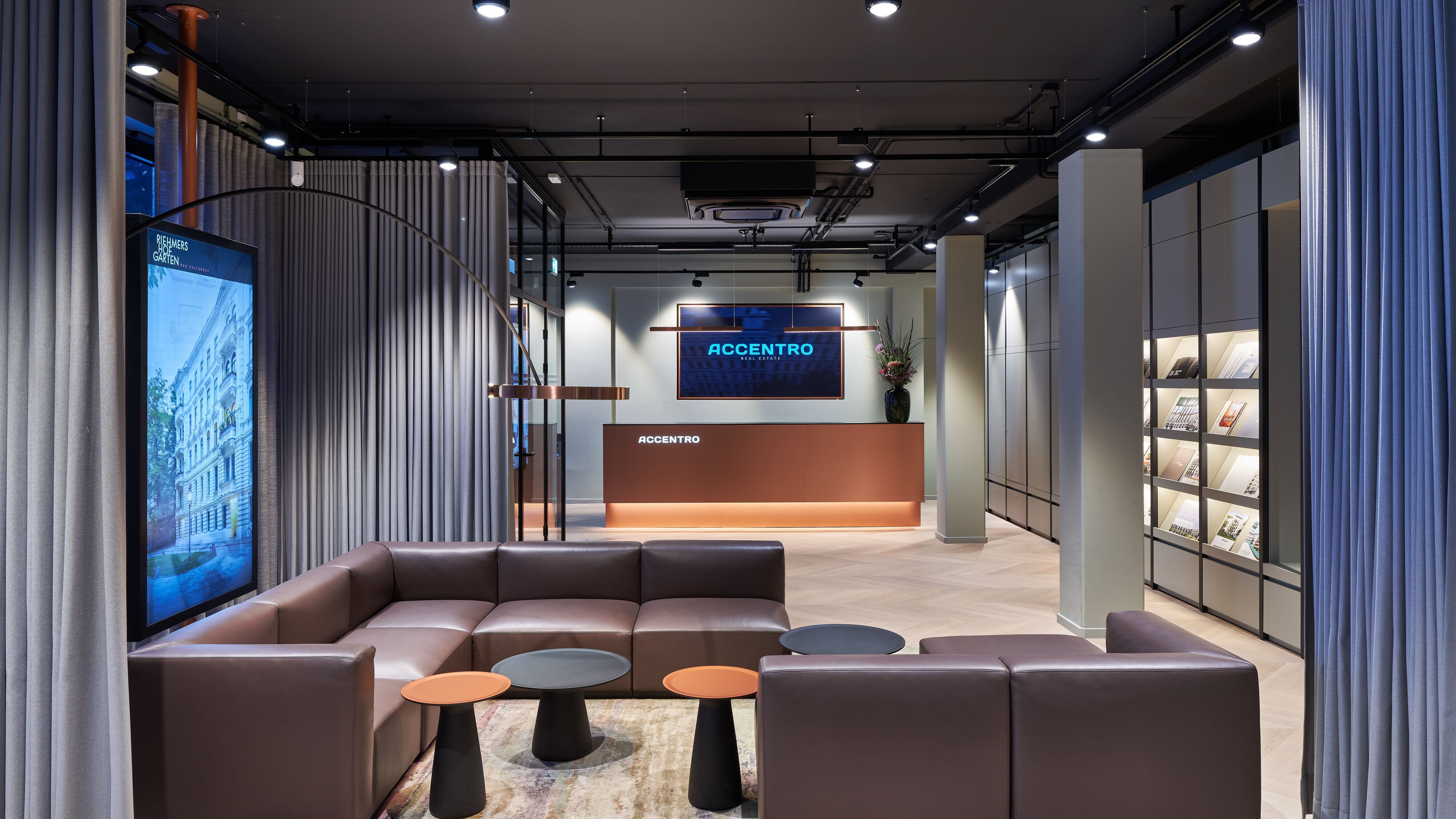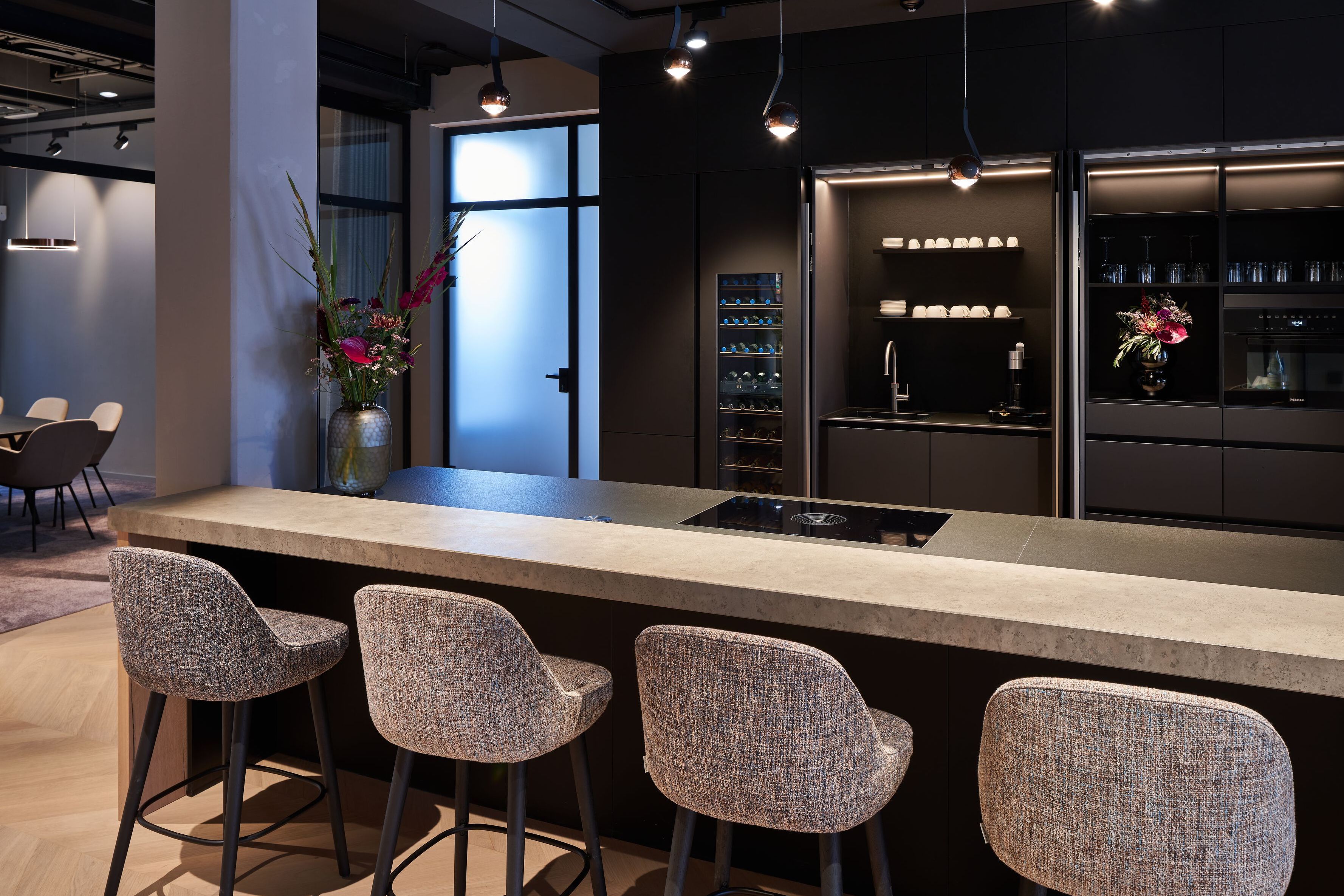 "Home is the most precious place in the world." ACCENTRO understands the value of the home and the importance of interiors. The residential investor in Berlin's Kantstrasse focuses on the privatization of residential real estate in economically attractive locations in Germany. Part of the brief to redesign their headquarters was to bring design and functionality together in the best possible way, with furniture that touches the senses.
"We want to convey an aesthetic design idea to our clients, so that they can immediately feel comfortable and at home."

Jörg Neuß, General Counsel ACCENTRO Real Estate AG
Walter K. has transformed this ethos, trust and appreciation into a tangible experience through the design and implementation of an inspiring interior. The newly designed showroom and sales area in the existing 1960s building evokes a sense of well-being. It expresses the values, performance and professionalism of the real estate company, reflecting competence and creativity through form, color and materials.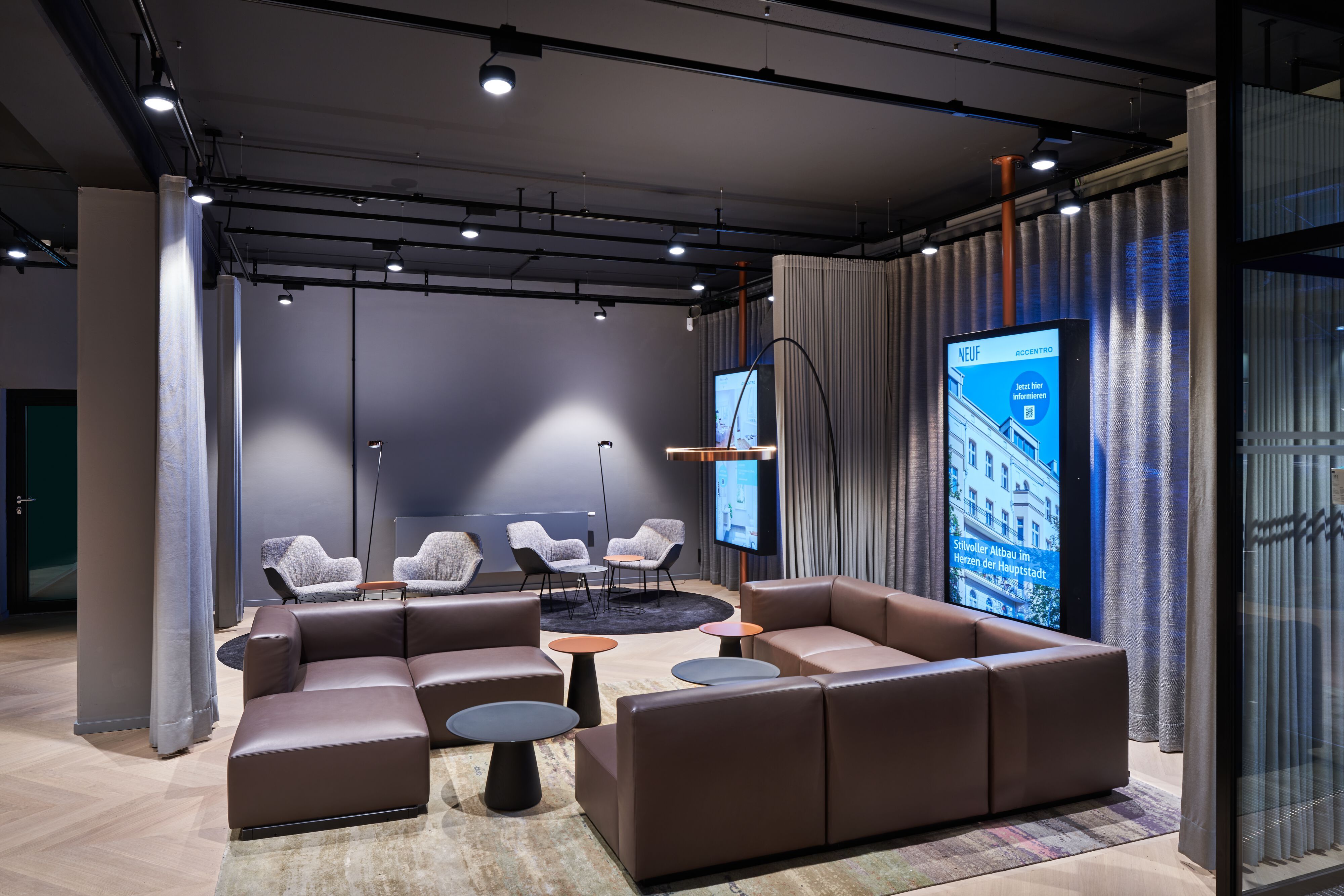 Feel at home the moment you arrive
The column grid of the existing architecture gives character to the interior and reveals a certain industrial charm. The showroom and consultation area are embedded in this space, divided by curtains into different areas and uses. A spacious Living Landscape 730 sofa welcomes visitors to the lobby area. Earthy tones – including those in the carpet and side tables – create a sense of calm and depth, while in the adjacent meeting room, which ACCENTRO calls the Curtain Cabin, Sheru ArmchAIRs encourage small group discussions.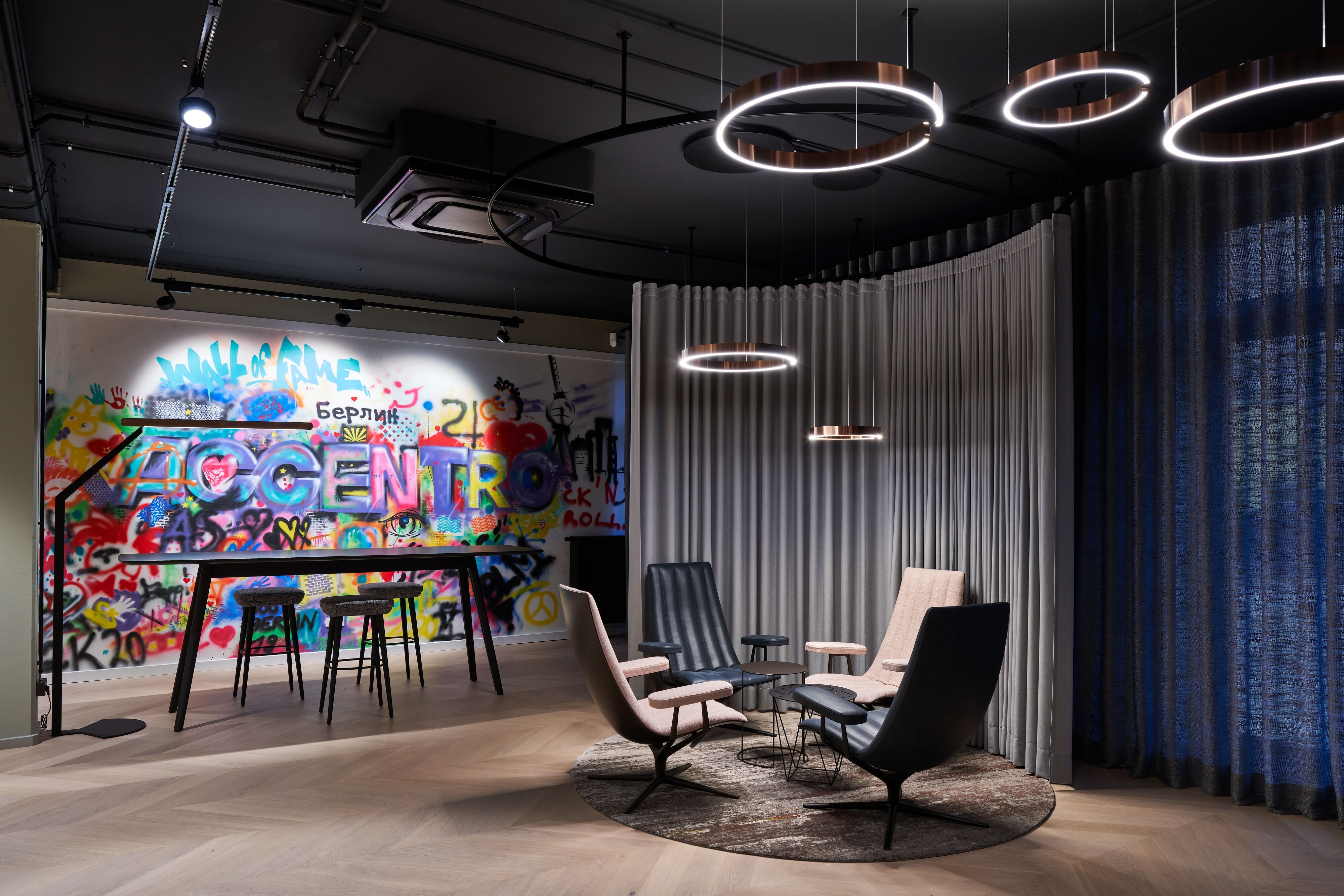 Accents in the room
Warm, natural materials and colors also set the tone in the area called the Sample Lounge. A colorful piece of graffiti, created during an ACCENTRO team event, disrupts the harmony. It is a unique, dynamic eye-catcher and an expression of corporate culture in action. Whether for a brief discussion at the high Deen Table or leaning back and relaxing in our Healey Lounge Chairs – meetings and conversations become an experience, the composition of colors melts into a cohesive whole.
"We are a modern and very dynamic team – this is also reflected in our headquarters in Berlin. We wanted the interior to reflect the uniqueness of our company."

Jörg Neuß, General Counsel of the ACCENTRO Real Estate AG
Atmospheric islands of color
Color is used to create zones and visual highlights. Here and there, splashes of color – like the graffiti – lift the dark atmosphere of the room. The carpets from our Legends of Carpets collection also intensify this impression. They serve as orientation for the guests, bring the mood of the respective color world and at the same time set accents – such as our Yungiyungi carpet with its nuances of soft green and warm dusty pink.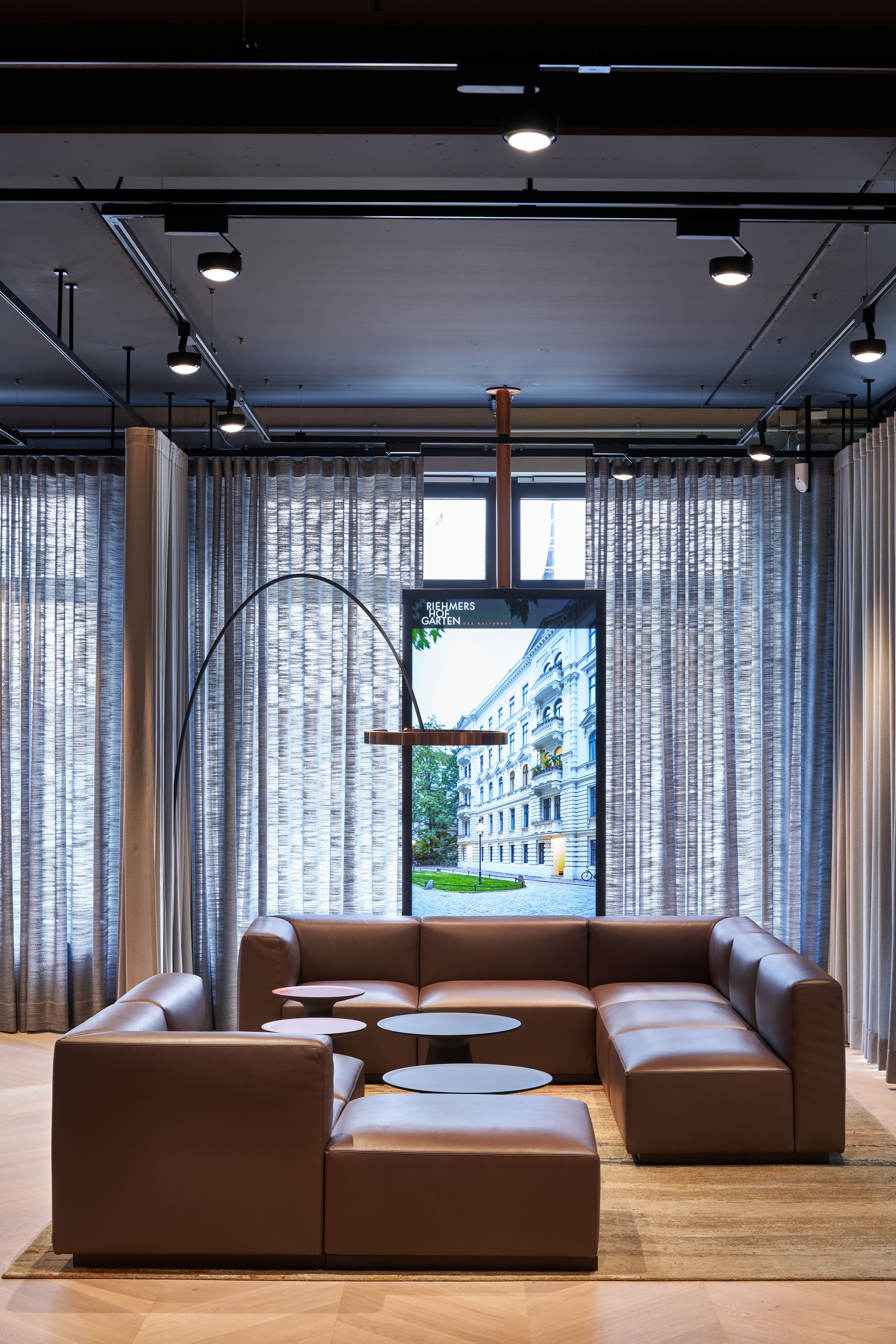 Conferencing zone
The conference room is designed as a place of retreat. Separated from the rest of the showroom and sales room by large expanses of glass, this is where meetings and conversations can take place. In the center, Sheru chAIRs gather around a Moualla Table, whose soft contours and natural, original materiality of solid wood are an invitation to touch. An ambience of soft colors, natural materials and timeless design, a space for communication and focus.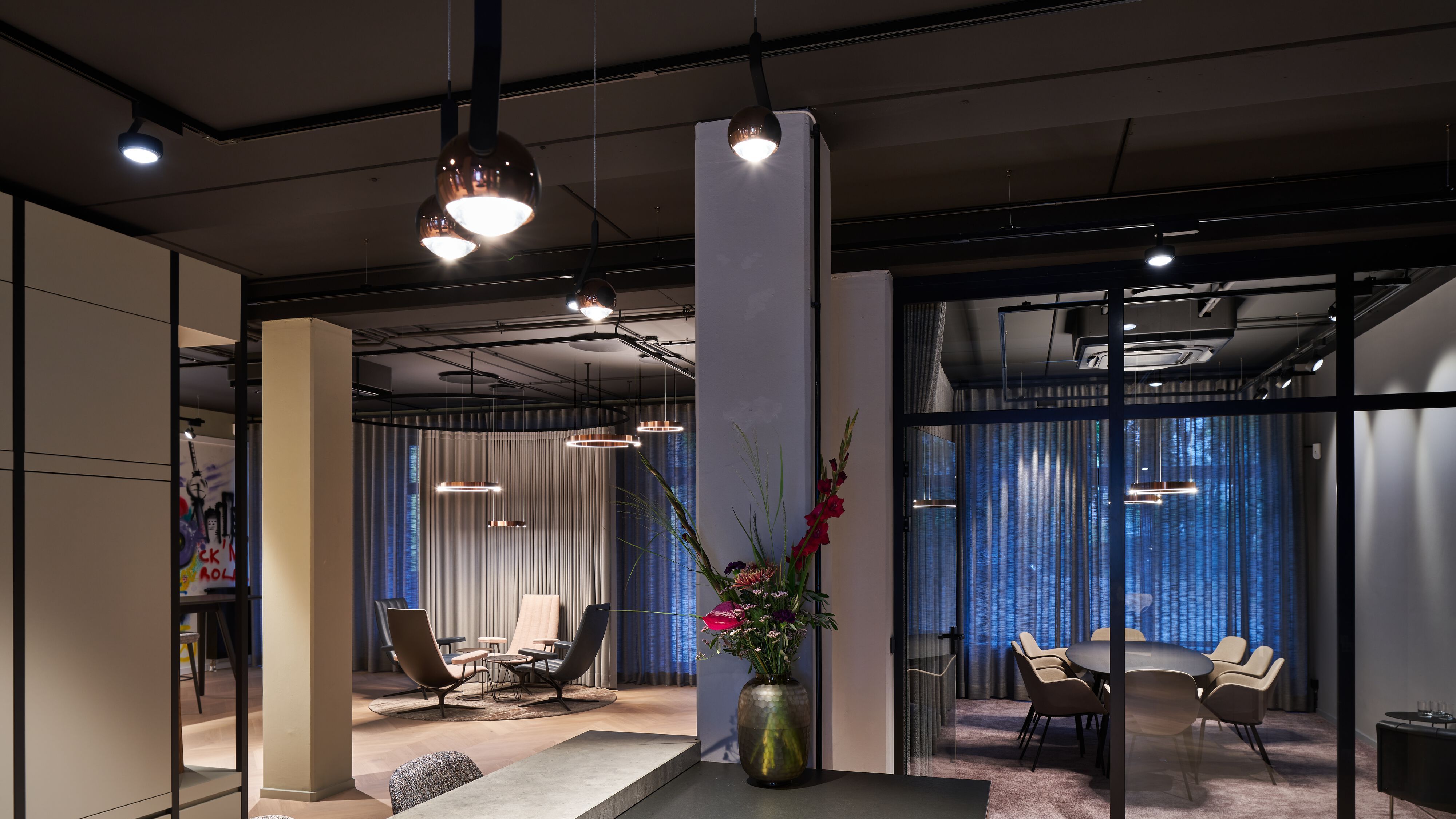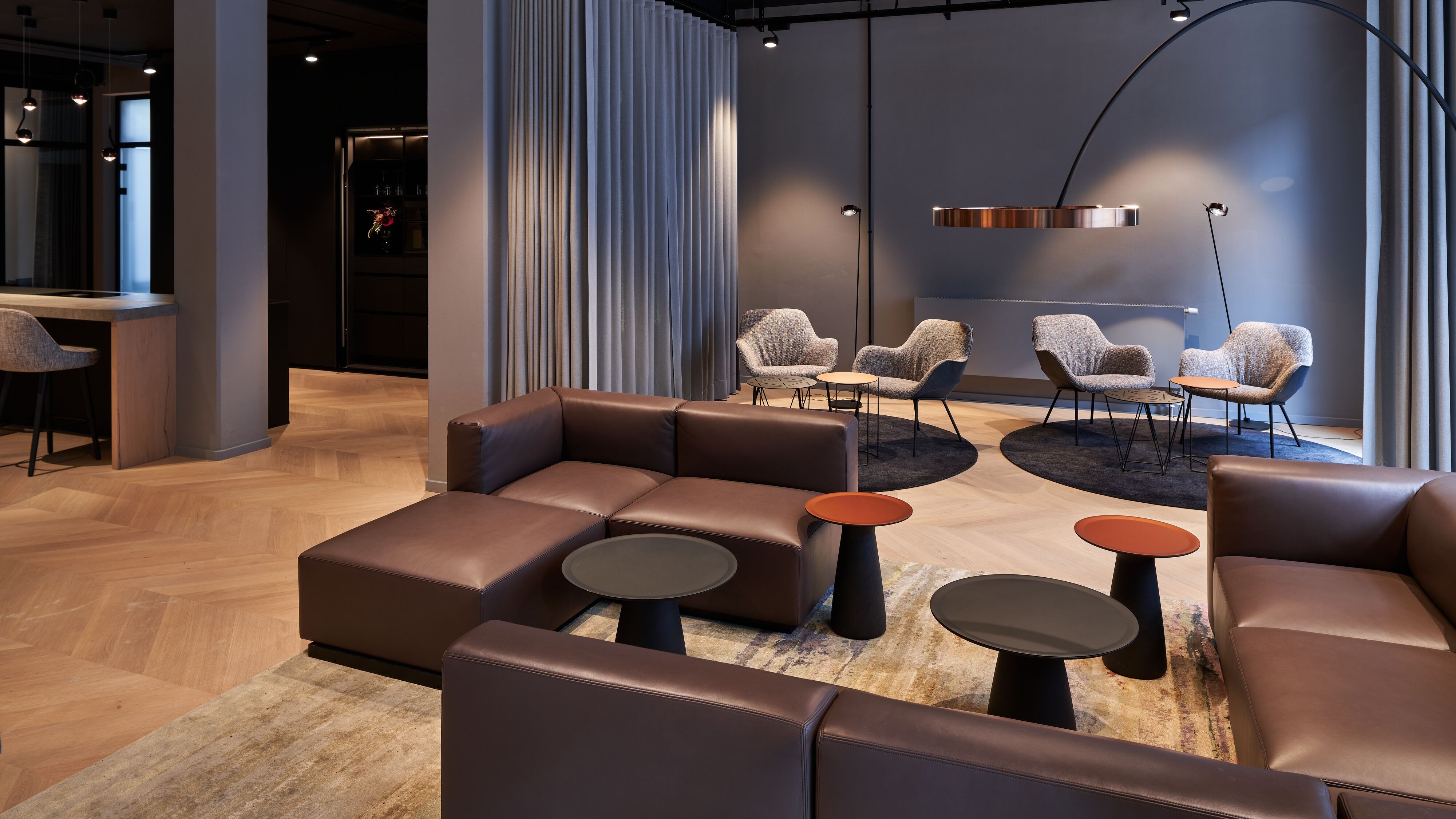 Special partnership
The newly designed ACCENTRO headquarters on Berlin's Kantstrasse has created a space for expertise and connection. It is a place where people feel valued and where the identity of the residential investor is expressed. After furnishing several apartments, including an exclusive private apartment in Riehmers Hofgarten in Berlin-Kreuzberg, this is the second successful collaboration between ACCENTRO and Walter K. that involves much more than just furniture. Walter K. was involved in the planning, design and implementation of the entire interior concept, from joint workshops and concept planning to lookbooks and visualizations.
"It was important for us to know what ideas and approaches Walter K. was pursuing and to what extent the products fit in with the ACCENTRO positioning. And it turned out that we agree on very many points. Be it in terms of the quality, values and emotions that we convey with our residential properties, or our many years of experience."

Jörg Neuß, General Counsel of the ACCENTRO Real Estate AG


"Meeting people with an appreciative eye, with a sense of the importance of a space – encounters that inspire and create value. We share with Lars Schriewer1 and Jörg Neuß a great human affinity and a passion for always wanting to create an aura of something special – be it on a personal level or in the design of a space. Thank you for engaging with it – the result speaks for itself."

Werner Maier, Chief Marketing and Sales Officer at Walter K.